Join us for our Dance-a-thon!
Thursday 9th June
10am – 5pm
At UCLan Dance Studio ME020, The Media Factory, Kirkham St, Preston PR1 1JN
Get moving, have a good time and raise money for charity!
We want to change the way that people think about learning disability. Instead of focusing on disability, we encourage people to see the skills and talents that people with learning disabilities have and this a great opportunity to come along and see us in action!
Your fundraising and donations will help us to ensure that the people we support can stay connected, stay involved and stay healthy, in addition to changing the way that people think about living life with a learning disability.
We will have a full programme of inclusive dance activities available throughout the day.
10 – 10:30am – Wake Up & Dance (available on Zoom)
10:30 – 11am – Creative Dance (available on Zoom)
11am – 12pm – Street Dance
12 – 1pm – Freestyle
1 – 3:30pm – Dance By Example Level 2 trainees delivery
3:30 – 4pm – Musicals Mash Up (available on Zoom)
4 – 4:30pm – Kitchen Dancing (available on Zoom)
4:30 – 5pm – Cool Down & Stretch (available on Zoom)
Some parts of the day are available via Zoom and you can sign up to receive the Zoom link using the form below.
Everyone is welcome and all activities are fully inclusive.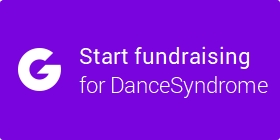 If you would like to join us, you can set up your fundraising page online using the Just Giving button or on the DanceSyndrome Facebook page.
If you need support with setting up these pages, we have easy read guides available on the following links:
Setting up a Just Giving fundraiser
Setting up a Facebook fundraiser
You can also download a printable sponsorship form.
If you have any questions or need any support, please contact info@dancesyndrome.co.uk. We hope to see you at the event on Thursday 9th June!